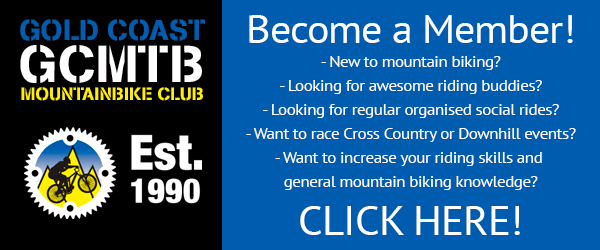 How many times have you woken up on the weekend, looked outside to a beautiful sunny day and asked the family, "What should we do today?" Have no fear because thanks to the hard work of the Gold Coast Mountain Bike Club, Gold Coast City Council, Nerang Trail Care Alliance and countless volunteers we have one of the premier family mountain bike trail systems in South East Queensland. And it's FREE to use!
We have one of the premier family mountain bike trail systems in South East Queensland. And it's FREE to use!
Contrary to nearly every mountain bike video ever made, most mountain bikers are local professionals, families or youth looking for some fun, fitness and community. Mountain Biking for me has always been social. Now a father of a 5 year old I am starting to share my love of the sport with my whole family and Nerang is the perfect place for it. Now my little guy might not be ready for the 20 kilometre endurance ride "out back" but there is a velodrome, big grass picnic areas, a road circuit and an easy (Green Rated) loop that any beginner can accomplish with confidence. Did I mention there is new parking and bathroom facilities? So lets get into the meat of the post with a quick guide to the main trails at Nerang.
How Trails are Rated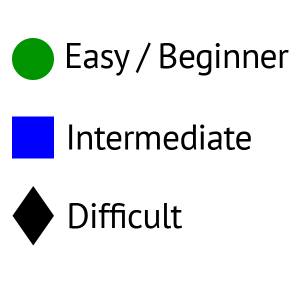 Now this is a simplified version of the official IMBA Australian trail ratings. But these three levels of difficulty will cover all legal trails within the Nerang Forest. At this point trails may or may not have official signs but this is in future plans. You can use this guide or other official maps that indicate each trail section rating.
Easy/Beginner: Likely to be a combination of fire road or wide single track with a gentle gradient, smooth surface and relatively free of unavoidable obstacles. Short sections may exceed these criteria. Frequent encounters are likely with walkers, runners, horse riders and other cyclists. Beginner/ novice mountain bikers. Basic mountain bike skills required. Suitable for off-road bikes.
Intermediate: Likely to be a single trail with moderate gradients, variable surface and obstacles. Skilled mountain bikers. Suitable for mountain bikes.
Difficult: Likely to be a challenging single trail with steep gradients, variable surface and many obstacles. Experienced mountain bikers with good skills. Suitable for better quality mountain bikes.
With this in mind I'll start by introducing you to three popular trails all based out of the main entrance at Nerang Forest.
Casuarina Groove Circuit (Easy/Beginner)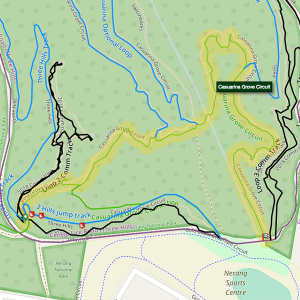 Newly renovated, this simple loop is ideal for the first time mountain biker. While a full suspension bike is generally recommended for the best ride, almost any standard mountain bike will do for this trail. You won't find and drops, jumps or severe technical obstacles on this groove track. The beginning of the track starts at the main gate entrance. The first few hundred meters will take you on a gradual climb with some easy turns and switch backs. You'll soon come to a split in the trail where another trail meets (Pete's Track). Take the left track to continue on Casuarina. From here the trail winds through the forest topping out at the optional extra loop. From here you can head straight which will take you back down to the link and then back to where you started. For first timers and youth this would be the best option. For a slightly more adventurous route you can also take a right at the junction towards the 800 meter "Optional Loop". Officially rated as a Blue trail, you can expect a slightly greater grade and a few small obstacles and quicker switchbacks.
Pete's Track (Intermediate)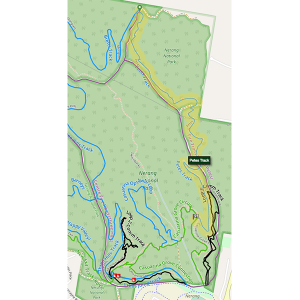 Similar to Casuarina, there has been a substantial reworking of this trail, mainly the upper part over the last season. More technical and a longer more sustained climb, this is the perfect second trail to attempt. It's an easy to follow out and back allowing you to return down at any point if things get to technical or time is running short. Start at the base of the Casuarina Groove Track but this time take the right turn when the trail forks. You'll climb for a while eventually crossing the main forest service road. You'll cross this a few times but the trail continues directly across the road so no chance of getting lost. Pace yourself as the climb stays very consistent almost the entire way up. Once you reach the top you'll have a few options. If this is your first time attempting this trail I recommend turing right around for a fun and flowing descent. The recent trail work has created smooth berms and added a few fixed obstacles. Please don't cut corners or attempt to relocate rocks. Enjoy what the trail is and how it flows. There are a few spots where more advanced riders can open up some speed but as this is a high traffic trail keep your eye out for other trail users. Be courteous, keep control of your bike and yield when necessary.
Comm Games Track (Difficult)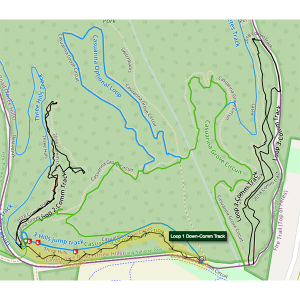 Now fully complete and open to the public, the official Commonwealth Games Track is quickly becoming a favourite of advanced riders on the coast. The course consists of three main sections (Loop 1, 2 and 3). Designed for elite cross country racing, these loops will certainly put your skills, vision and fitness to the test. For those not ready for this level of trail it is an easy hike to watch talented riders tackle these sections. Loop 1 is a downhill only section, best know for it's finishing jumps and berms. A perfect way to end a big day "out back". To get to the top of this section, climb either the forest service road or three hills connection. Loop 2 connects to Loop 1 and has by far the most technical riding sections in the forest. It is advised that riders dismount and inspect or walk through these sections prior to riding. In most cases you can ride a B line around the most difficult parts. Loop 3 is less technical and has recently been used for local Enduro racing. Be prepared with lots of fitness, skill and vision before attempting these loops. For the advanced rider these loops will put you to the test but leave you with great rewards.
If you are looking for more information regarding these trails, how you can volunteer for the Nerang Trail Care Alliance, join group rides…please contact the Gold Coast Mountain Bike Club (info@gcmtb.com.au) or one of our three Gold Coast Supercycle locations. Have fun and rubber side down.