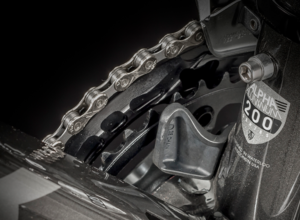 Many people overlook the fact that a bike chain, like brake pads and tyres, are a consumable piece of equipment that needs regular maintenance and replacement over time. Good chain health is crucial to the smooth running of your bike and, when neglected, results in comments like "my gears keep slipping" or "there is a grinding noise when I pedal". You may notice when you drop your bike off for a service that one of the first things the mechanic will do is check the chain for wear. This is simply because it is the centrepiece of your drivetrain and paramount to a smoothly running bike. So, first up, what is actually going on here?
Tech Zone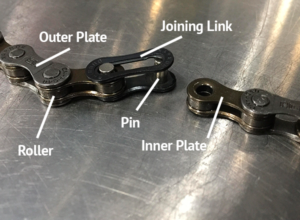 Your bicycle chain is made up of inner plates, outer plates, pins and rollers. Pins work like axles. They hinge the outer and inner plates together and allow them to rotate.The plates also make contact to the side of the gears when you shift. In between these plates are little donuts of metal called rollers. These rollers rotate around the pins and are the main contact point to your gears. The quality of your chain will have a big effect on durability and shift quality. With that understanding let's shift things into high gear, here are 3 reasons you should replace your chain.
Your chain has "stretched"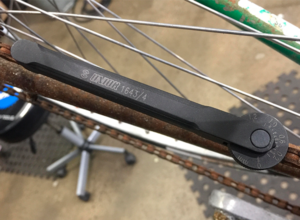 Now chains don't actually stretch, but it is the easiest way to explain the kind of wear a chain will go through. The stretch of a chain can be measured with a "chain checker". This is a simple devise that measures the movement/play of the rollers. A brand new chain will have about 0.2-0.6mm of play in it. This is necessary for the rollers to rotate freely around the pins. Eventually the rollers's inner surface wears causing more movement. Once the play is measured at 1mm it is time to replace the chain. If the chain continues to wear beyond this then it will wear down the gears. It's much cheaper to replace a chain vs replacing chain rings and cassettes. Think of it like changing the oil in your car. It's a lot cheaper to service it then wait until it blows up and have to buy a new engine.
A new chain will shift better
Along with the bushings, the pins and plates will also loosen over time. This can dramatically affect how well the bike shifts and is the most common reason chains break while riding. Unlike the rollers, this is more subjective to measure. Hold the chain with both hands and move it laterally back and forth. Does it feel tight and stiff? Or is it loose and gritty? If it is the latter then it is time to install a new one even if the rollers aren't completely worn. Yes you could draw it out a little longer but expect poor shift quality until you replace it.
Damaged link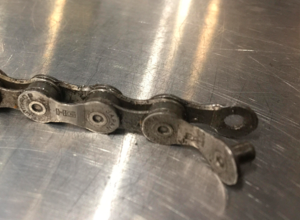 This may seem obvious at first but hang on, there is more to this. As a rule I always carry a spare joining link (quick link) with me when I ride in case my chain breaks. With a simple multi-tool I can remove the damaged link and replace it with the joining link to get me home. All too often I see riders continue to ride the same chain after replacing the link. Yes sometimes this is ok but consider that by removing a broken link you may have shortened the chain's length. This can be a big issue if you accidentally shift into the big chain ring up front and the big sized gear (lower gear) in the back. If the chain is too short in this gearing it could rip off your derailleur. A new chain will give you some piece of mind that it shouldn't happen again soon.
How to make your chain last longer
A clean chain is a happy chain. You don't have to be pedantic with chain maintenance but you should make an effort. I would recommend cleaning and lubing your chain at least every fortnight. Check out this video we made on how to clean and lube your chain.