Being a life long bike enthusiast and working in local bike shops for the past 15 years I've seen and experience most the recent trends. The popularisation of the balance bike comes to mind as one of the biggest I've seen. Before becoming a father I took the new trend with confidence. I sold them to parents wanting their child to succeed at bike riding through the easiest path. The concept of learning balance before pedalling was a novel idea and could very well be the answer they were looking for all along. But traditional training wheels remained and what was thought of as the reinvention of the child's bike came into question.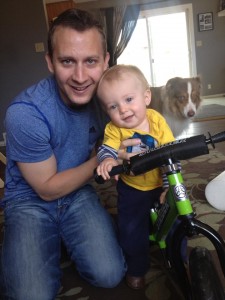 While it may be easy to to begin this conversation with some wild existential ideology about how the human child learns motor skills, let's touch on what both of these options can provide for your little one about to get their first bike. Now as a parent of a four year old who LOVES his bikes I can finally speak with experience about what really matters when your child starts riding. FUN!
While the balance bike trend continues to grow, most of us can say we began on training wheels. What's wrong with a system that has been used for generations to help learn how to balance and pedal a bike. Nothing except it doesn't teach balance. It provides a chance to grasp how to pedal and brake without the frustration of falling over and over again. How a bike should be balanced while turning can, however, be neglected. Does that really matter? I believe it does. I see it every time my son and I go riding at the park. Kids are riding confidently on their training wheels, powering pedals as the black skid marks accumulate with pride. Here comes the tricky part, do we as parents just take the safety blanket away and do the old push 'em down the grass hill to discover real speed and most likely a little scratched knees? Why not, worked for me! Eventually we all learn one way or another.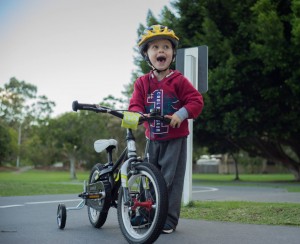 Now about this great trend of balance before pedal. I am definitely guilty of believing that my child was going to start on a balance bike and rocket straight into a pedal bike cleverly never needing the use of training wheels. I've heard stories of these amazing feats of coordination but have yet to experience it in real life. I got my son, who was 1 at the time, his first balance bike. It was the best thing I could have done. I wanted my son to love bike riding and the balance bike was the best thing for him. He loved his new bike! I think he just about took his first steps walking the bike around the house. He even loved flipping the bike upside down and spinning the wheels. Soon enough he was riding his balance bike in the yard, at the park and to the famers market. Now I find myself sprinting after him down the foot path.
Let's get to the point shall we. Is it possible to use the balance bike as a training wheel replacement? I actually see the balance bike as the trike replacement. It's the first bike you should buy if you really want your little one to love riding bikes. That's what it's all about for them anyways right? It'll put a smile on their face, get them outside and teach them proper balance and steering. When it comes time to add the pedals try keeping the training wheels on for a bit and get them a solid understanding of how pedals and brakes work. In the end they're all going to need a push down the hill and let them figure it out on their own. That day for my son and I is quickly approaching. I'm sure it'll make me as proud as his first steps.