"Send the kids to the neighbours I'm comin' home loaded", Bikepacking loaded that is! Although what is an overnight bike mission without a stop off in a pub?
But riding all day and hitting the suds in some far flung outback drinking hole is just one of the reasons to pack up your bike with panniers, frame bags and all the paraphernalia required for an overnight adventure on two wheels. Exploring seldom visited locations far from the rat race, places often only reachable by bike, is the joy of packing life into a frame bag, rolling up a tent and setting off.
To make this adventure your next holiday there are some things you will need to sort out first. Having the right bike in good working order is probably the first step, and there are several options available.
Mountain bike: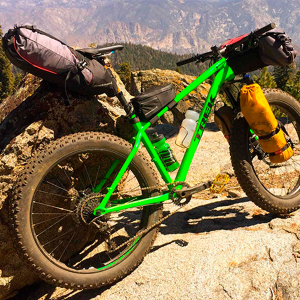 Probably the best and most versatile choice for any bike packing mission, a mountain bike is built around a heavy duty frame making it very stable when riding off-road. It comes with suitably low-range gearing for carting the extra weight of panniers, racks and tent rolls over hills and rough terrain with relative ease. The hardtail mountain bike is the greatest all-rounder available – spin over bitumen or gravel, then plough through any trail. Check out the Marlin 7 as a quality and affordable option.
Cross Bike: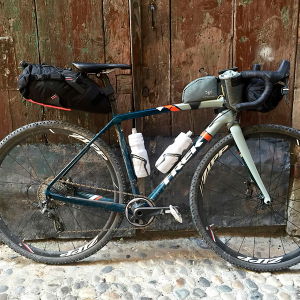 The Cross Bike is another bike that is a great bet for trips with a lot of gravel roads, bitumen and less rugged terrain (where it may not be necessary to have a mountain bike). These bikes will chew through the miles with relative ease and all feature frames that are purpose built to carry racks and panniers. The Trek Boone is not only a perfect bike packing option, but would also be excellent as a day-in, day-out commuter.
Fat bike:
Why ride a fat bike? Comfort and stability. Once moving these bikes will roll over any surface with confidence. Even fully loaded down with all your overnight camping gear a fat bike, like the Trek Farley 5, will remain unfussed wherever you ride. The bike is lightweight, has a massive gearing range for any decent climbs and best of all it is comfortable without the complexity of suspension forks and shocks.
No racks required
While commuting and touring orientated bikes like the Dual Sport and FX range have frames with mounting points purpose designed for attaching traditional racks and panniers, it is now possible to build-up any bike with a full bike packing gear load. Frame bags, handlebar rolls and seat post mounted racks can make a bike packing machine out of any decent bike. Stay tuned for a gear intensive part 2….