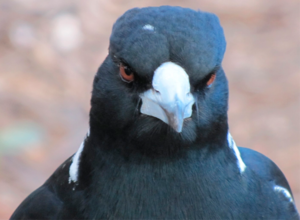 A warm winter means the magpie attack cohort are sharpening their beaks early this season. So what can we do to avoid the fear and loathing from a close beak snap or, heaven forbid, loss of eye or limb from an overly aggressive death bird? We look at the five best and five worst ways to survive magpie season.
Best
Tennis racket
The combination of a tennis racket and a good serve is an effective way of fending off aggressive beak snapping birds. A powerful one handed short game is also helpful. Effective as this can be, it also unfortunately will harm or maim the bird. Don't do it.
Stare them down
I can actually vouch for this method. Aggressively engaging eye contact stops the birds from swooping, but you have to stare them down constantly. A soon as you look away they will resume attack. The problem here is that typically magpies swoop from behind, meaning you're not looking where you are going. The injuries sustained from inevitably crashing into something will probably outweigh the discomfort of being pecked on the ear. It definitely works, but is inherently unsafe. Don't do it.
Drive
Drive a car instead. It works – no birds, but also means you aren't riding a bike. Don't do it.
Group ride
My favourite is riding in a decent bunch. The larger the bunch the greater the odds that someone else will get attacked and the odds rise in your favour even more if you sit on the front while riding through known bird patches. Added bonus is that magpie attacks are actually funny when they happen to someone else. Sit back and enjoy.
Ride fast, real fast
Okay, this works in theory. A typical unladen bird has a top speed of in short attack bursts 100-150km/h. Obviously if you ride faster you will be safe. This is actually stupid. Don't do it cause you can't.
Worst
Zip ties
As common as it is ridiculous, generations of silly people have been attaching zip ties to their helmets in a vain attempt at fending off attack birds. Don't bother, it doesn't work and the birds are laughing.
Googly Eyes
This is an attempt to reconstruct the stare down method. You could be forgiven for believing that sticking a pair of eyes to your helmet will confuse an approaching magpie. Seems legit. Doesn't work. The birds don't forgive.
Squirt bottle
Another terrible idea that requires pin point accuracy with a squirt bottle while riding not looking where you're going. Birds fly in the rain. They don't care about water.
Lights
You could try mounted flashing light to your helmet. The benefit would be twofold because it helps with visibility making you safer. Unfortunately the birds aren't scared of lights so there is only one benefit, which I have just mentioned.
Taxidermy
Top honours for the worst way to prevent a magpie swoop is taxidermy on your helmet. Stuff your recently deceased cat and zip tie the embalmed corpse to your helmet. This could actually work, or it could just be really, truly stupid. The problem is whenever my cat goes outside in a magpie rich environment it instantly becomes a magpie magnet. Save your taxidermy for the mantlepiece. The birds aren't afraid.